Thermae Bath Spa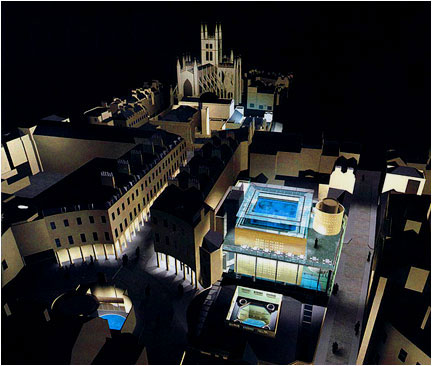 Located in the heart of the World Heritage Site, just 100 metres from the Roman Baths, the restored Spa will draw its thermal waters from the Hetling Spring, the Cross Spring and Kings Spring which deliver over one million litres of water every day at a temperature of 44 degrees centigrade.
Bath has been a spa site since prehistoric times, known then as Aqua Sulis. Adopted by the Romans it was developed and dedicated to Sulis Minerva. Almost ever since Britons and visitors have "taken to the waters".
Twenty years ago bathing at the baths stopped. With the new Millenium, thanks to lottery funding and Dutch Expertise (Thermae Development Comp), an exciting new project to recreate the spa experience in Bath is taking shape thanks to architects Nicolas Grimshaw & Partners. Two Georgian Baths are being refitted for use.
CGI images copyright - Nicolas Grimshaw & Partners



Thermae Bath Spa Facilities
Overview
Minerva Bath
Massage Suite & Exercise Rooms
Steam Rooms & "Waterfall" Showers
Rooftop Thermal Pool
Ground Floor
Main Entrance

Reception

Lifts

Shops
Lower Ground Floor
Minerva Bath with whirlpool and relaxation areas
Upper Ground Floor
Changing Suite

1st Floor
Massage Suite

Exercise Space

Restaurant

2nd floor
The Steam Rooms

Four circular glass pods

'Waterfall' Shower

Footbaths

Open-air Terrace

Solarium

Meeting room.
Rooftop
Open-air Spa bathing pool with neck massage and air beds
To receive news and special offers on Thermae Bath Spa and other Health Spas, subscribe to our newsletter